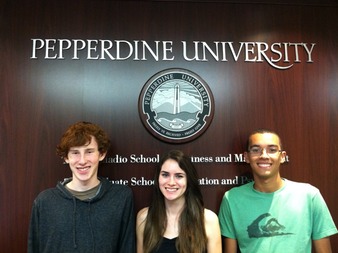 Much Thanks To Dr. Hamilton & the Pepperdine Staff !!!
Here's a sample of our work, and hear about our experiences in our own words.
Chris Shows How Cylindrical Volumes Can Differ When Surface Areas Are Identical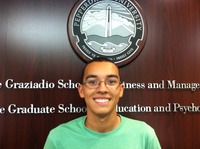 "I've noticed that as I continue to explore . . . the Camtasia program, my creativity continues to expand.  This (Institute) has left me with a lot of potential as far as tutoring others . . .  Creating videos are fairly simple . . . developing a series (of videos) for struggling students could be more helpful than just having me walk them through their homework problems.  I have aspirations to get into the field of computer programming  . . . I (should) be able to use (Camtasia)  . . . to create how-to-videos as assistance to those that need it."
Katherine Shows How To Graphically Represent A Normal Probability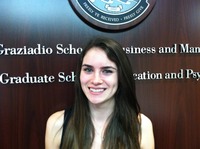 "Working with this program and being a part of this institute has been an incredible experience.  I learned a lot about making and producing videos, . . . something I never thought I could do.  The people are all very nice and eager to help which made working here that much better.  I am so thankful to be a part of this program." 
"I have realized that I am a creative person, . . . and accomplished things I never thought I could.  I never saw myself as a video maker, but now after experiencing it and realizing it is a fun way to express ideas, I definitely see myself creating videos for future projects or just creating videos for something that is interesting to me. "
Trausti Demonstrates One Of Newton's Laws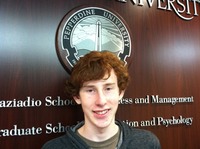 "I think I have learned a lot of new techniques in recording videos . . . The software is very simple to learn and I hope to learn more. " 
Tatiana Shows How Excel's Graphic Displays Can Illustrate Literary Elements
(Note: Tatiana Could Only Attend One Week For Partial Days, But Did Show Real Potential; No Picture Available) 
"I loved coming to work in such a positive environment . . . I value the liberty we had to finish our work on our own time as well as the assistance we received.  I'm really hoping I receive an opportunity to come back again next summer.   Working on the computer helps expand my creative side because with each project I work on, I learn different ways of adding detail or making my work look more presentable."